COMPANY
The gate to the future
OCTO shapes the tools that transform an IoT Big Data set into business value
For almost two decades OCTO has been helping customers innovate and stay ahead of the competition.
As a leader in IoT, OCTO's vision is to drive a better quality of life in an ever-increasingly connected world.

Today OCTO is a leading provider of telematic services and advanced data analytics for the insurance sector, and increasingly one of the leading companies offering solutions for Fleet Telematics and Smart Mobility.
OCTO offers tailored solutions and technological application for companies and users in the Connected Vehicles, Connected Living and Connected People fields by leveraging an in-depth analysis of Big Data which combines a broad skill in applying Artificial Intelligence and Machine Learning models with an extraordinary ability to collect and manage information deriving from the IoT.
VISION
Drive a better quality of life in a connected world
The third era of mobility has begun. People and their driving habits are at the centre of this revolution. Telematics provides essential tools to make Smart Cities a reality and OCTO's products can offer a better quality of life.

OCTO is a global leader and pioneer in insurance IoT. The company anticipates market demand and shifts and provides tailor-made solutions to satisfy emerging needs across industries.
PRESS KIT
Brief description about OCTO
Founded in 2002, OCTO is a leading provider of telematic services and advanced data analytics for the insurance sector, and increasingly one of the leading companies offering solutions for Fleet Telematics and Smart Mobility. With OCTO's unique propositions already established in the field of Insurtech and Smart Mobility, OCTO continues to expand in new sectors and international markets. In the context of an increasingly connected world, OCTO's advanced analytics and its set of IoT Big Data, generates actionable analytics giving life to a new era of Smart Telematics. Today it has over 6 million connected users and the largest database of vehicle telematics data in the world, with over 267 billion miles of driving data collected and 480.000 claims and insurance events analysed. It also manages over 400.000 vehicle rentals per month
STORY
Roots in the future
OCTO realizes the importance of a single driver over the insurance product. OCTO founder Fabio Sbianchi created a system where drivers pay a premium based on their real driving behaviour.

In just a few years OCTO built up its reputation. The Italian insurance leaders Unipol and Axa chose OCTO models for their insurance solutions.

From national to international, OCTO has constantly worked with a global vision and conquered market share across Europe and North America.

OCTO celebrates 1.000 active contracts in the insurance field.

OCTO goes beyond the insurance market launching the fleet management solutions, through telematics modules for car rental and OEM clients.

OCTO opens its offices in London

OCTO enters the Canadian Market

For the first time the number of new weekly users in USA overtakes Italian figures

OCTO launches its New Generation Platform

OCTO acquires the leading European mobility solutions Car Sharing Company and launches Omoove.

OCTO acquires UBI assets of Willis Tower Watson and announces a strategic partnership

OCTO is a worldwide benchmark among insurers, with 40% market share and 6 million connected users. In 2019 Octo appointed a new CEO, Nicola Veratelli, while Fabio Sbianchi remains as a Member of the Board.

OCTO presents a range of innovative products and solutions to support people and companies to live and work in the "New Normal".
OCTO reaches you everywhere
OCTO doesn't know borders. Its smart solutions are the telematics answer to customers' needs, wherever they are, with more than 20k shipments per day.
Users
+
6

Mln

Over 6 million connected users
Offices
7
Offices around the world
Data collected
+
280

Bln

More than 280 billion miles of driving data collected
Events analysed
+
480

k

Over 480,000 crashes and insurance events analysed
Rentals
+
400

k

More than 400,000 rentals per month
As technology is constantly advancing, OCTO is keeping pace. Focused on innovating and pushing IoT in new directions, company resources are always looking ahead.
CORPORATE GOVERNANCE
A safe haven for customer data
OCTO manages customer data effectively and securely.  OCTO operates transparently and is keenly aware of the importance of integrity of behaviour in collaboration with clients.
PARTNERSHIP
Extending the value of insurance IoT through partnerships
Our partners enhance and extend the value of insurance IoT through market-leading solutions that drive results.
CORPORATE SOCIAL RESPONSIBILITY
Communities first
OCTO is side by side with many partners as part of its global Corporate Social Responsibility program, including support and involvement with five international and local associations.
INVESTOR RELATIONS
The most advanced insurance IoT platform
OCTO is committed to collecting and sharing industry knowledge to support new developments. We invest heavily in new concepts to innovate products for the future.
CAREERS
We want to build the future together.
OCTO is always looking for new talented and passionate people who desire to contribute to the mobility of tomorrow.
OUR LOCATIONS
Our Offices
OCTO covers every corner of the earth with operations in the four largest telematics markets and offices in seven cities
Request a Demo
Tell us a bit about yourself, and we'll tell you a lot more about our solutions.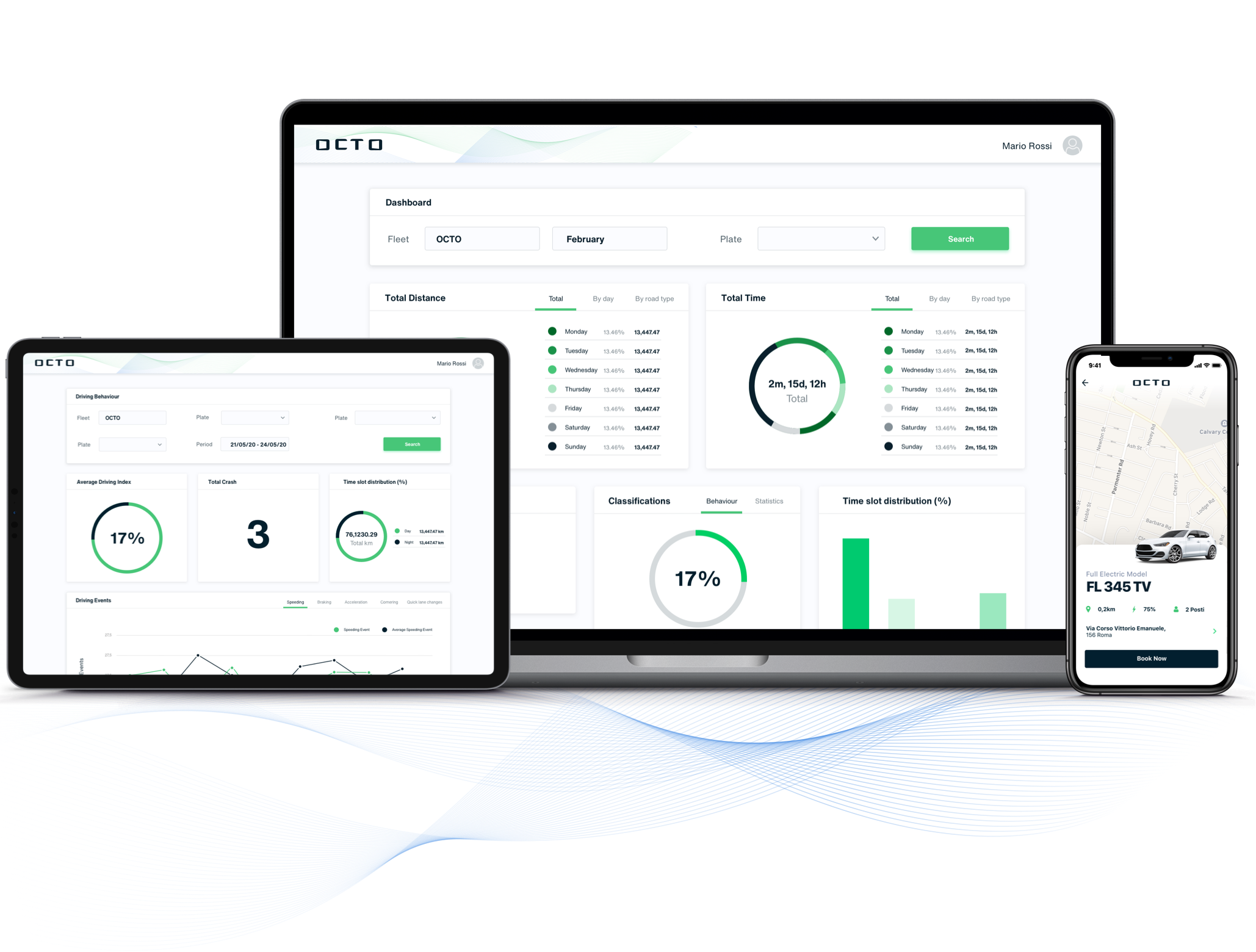 Thanks for contacting us. We'll be in touch soon!