Asset Management
The OCTO solution enables full management of assets with perfect integration between, fixed, transportable and mobile ones. The services included in this solution enable assets to be governed and protected, optimising use, making overall costs more efficient and maximising working times
Car Remote Diagnostics ​
OCTO Diagnostic Solutions simplify the process of data usage coming from connected vehicles, enabling you to monitor, analyze and preserve vehicle health and operations.

The OCTO Cloud platform allows you to access all or part of vehicle data remotely and securely and, if required, integrate them with additional OEM data.
Thanks to this function, the fleet manager can check the vehicle's maintenance, battery level, kilometers traveled and any error codes.
The huge amount of technical data generated by vehicles is only used in the vehicles, therefore not stored. Furthermore, the type of data generated differs depending on vehicle brand and / or model.
Access to vehicle data offers many opportunities for diagnostics, because it helps improve vehicle maintenance and protect its value.


Then you also get the Scorecard: an electronic certificate which certifies, based on data collected, how the car is used during its entire life cycle. It can be an excellent tool to increase the car's value when resold.
Reporting
OCTO can provide full, detailed reports on use of resources.
The shared information includes: inactivity times, sequence of operations,
scheduling activities and maintenance notices. All reports are available on web
and through a standard file to be imported into the customer's system.


Geofencing
Thanks to this component, areas linked to points of interest (POI) can be defined and associated to a single fleet asset. All connected assets generate an event each time they enter/leave the predefined area.

Through Geofencing you can:
– create circular and polyline Areas
– create POI manually or load a lot
– define anchors as protected areas in which resources exiting can
generate an alarm for security purposes


Locating Equipment
This service provides full visibility of the asset and its movements as monitoring
is in real time, based on the position.


Request a Demo
Tell us a bit about yourself, and we'll tell you a lot more about our solutions.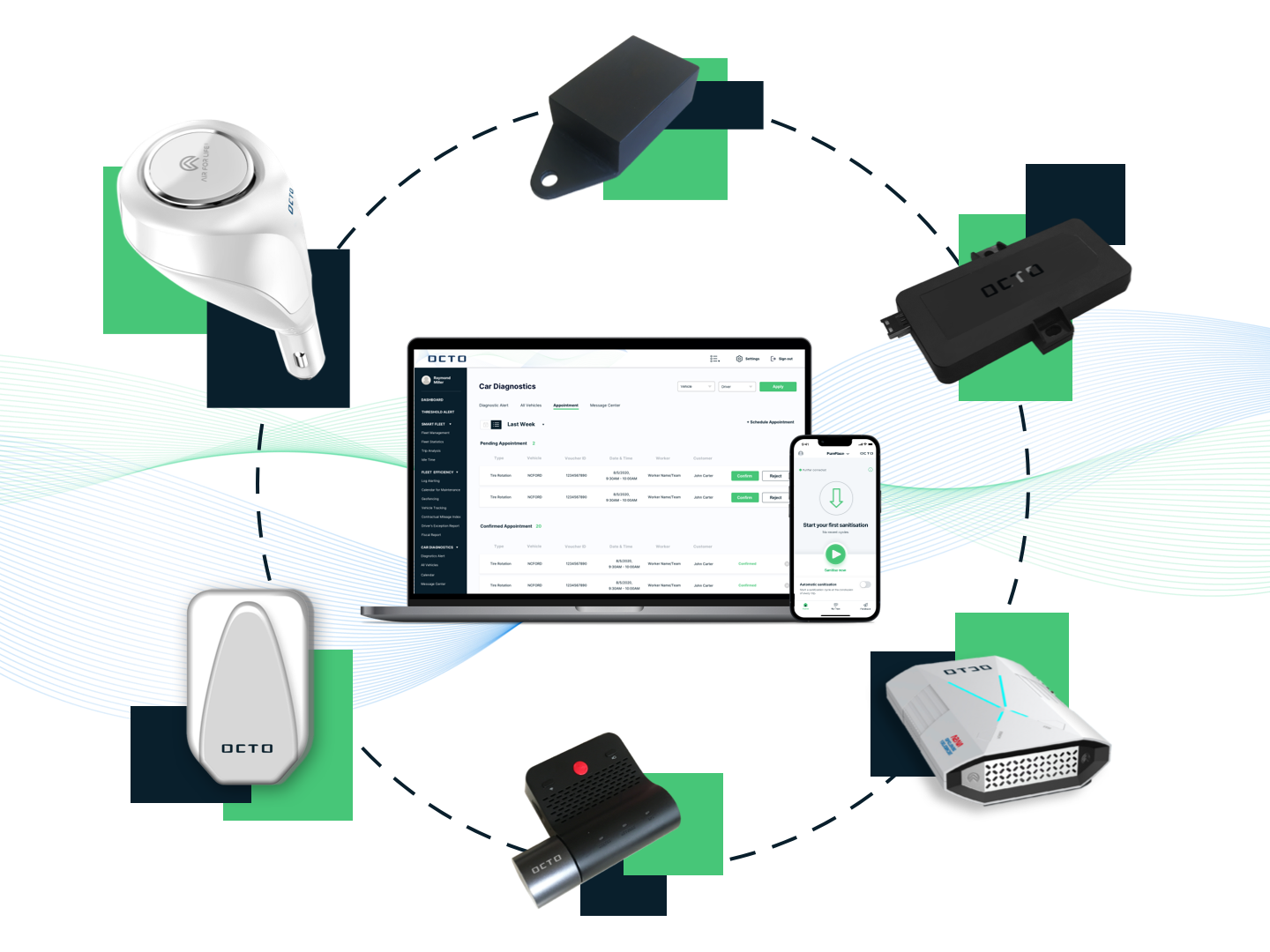 Thanks for contacting us. We'll be in touch soon!