/
/
/
Advisory and Consulting
Advisory and Consulting
Avviare un programma telematico o trasformarne uno già esistente può rappresentare una sfida complessa per le aziende. Con il servizio di Advisory e Consulting OCTO affianca le imprese clienti nella trasformazione tecnologica, a prescindere dal loro livello di maturità digitale, per innovare secondo il ritmo e il contesto operativo specifico. I vantaggi: maggiore efficienza operativa, introduzione di nuovi prodotti in portafoglio su target profilati, crescita dei ricavi.
UBI Program Setup
L'introduzione di un programma UBI (Usage Based Insurance) presuppone la capacità di saper raccogliere i giusti dati telematici e saperli organizzare e analizzare adeguatamente. Con la sua esperienza, OCTO mette a disposizione delle aziende un team di esperti che supporta il lancio di programmi telematici o aiuta ad ottimizzare quelli già esistenti.
La realizzazione corretta dei programmi UBI può essere determinante per l'individuazione preventiva del rischio assicurativo e la definizione dei premi relativi come anche guidare soluzioni pay per use basate su effettivo utilizzo dell'auto (km percorsi) da parte dell'assicurato
I vantaggi della soluzione OCTO sono:

∙ Time to market coerente con i bisogni dei clienti

∙ Contenimento del rischio di investimento

∙ Raggiungimento degli obiettivi aziendali

∙ Maggiore soddisfazione dei clienti per politiche di prezzo profilate
Service Co-design
Quando si decide di avviare una soluzione digitale fondata sulla telematica è importante capire quale potrà essere l'esperienza dell'utente finale. L'approccio di OCTO è quello di supportare l'azienda ad avere una panoramica di tutte le applicazioni e gli obiettivi di mercato così da poterla guidare nella selezione delle soluzioni e della UX più adeguate riducendo il time to market.
Si parte dall'ideazione di servizi innovativi mappandoli attraverso un percorso basato su fasi, dove il coinvolgimento e il punto di vista dell'utente consumer definiscono i casi d'uso per il design.
Il service co-design si basa su dinamiche di workshop interattive, con feedback continui per migliorare e mettere a punto la soluzione, validarla congiuntamente prima del rilascio al mercato.
Training
Personale preparato ed efficacemente formato sono elementi importante per la riuscita di un programma telematico ed in generale per sostenere il cambiamento digitale che comporta anche un aggiornamento delle conoscenze da parte di figure professionali che dovranno adottare un nuovo modo di lavorare. Per questo OCTO mette a disposizione delle aziende che introducono la telematica un team multidisciplinare di esperti in grado di supportare le sfide di trasformazione aziendale per un accrescimento totale del valore introdotto.
I programmi di training di OCTO sono svolti da esperti che coprono tutte le aree di interesse con sessioni che vengono adattate sulla base delle reali esigenze aziendali. Ogni impresa avrà quindi il suo modello operativo, con contenuti, figure professionali coinvolte e tempistiche definite nel rispetto dello specifico modello da attuare. Il team di formatori OCTO, disponibile per diverse aree geografiche, è composto da:

∙ Ingegneri

∙ Data scientist

∙ Attuari accreditati

∙ Specialisti


Richiedi una Demo
Raccontaci qualcosa di te, ti diremo molto di più sulle nostre soluzioni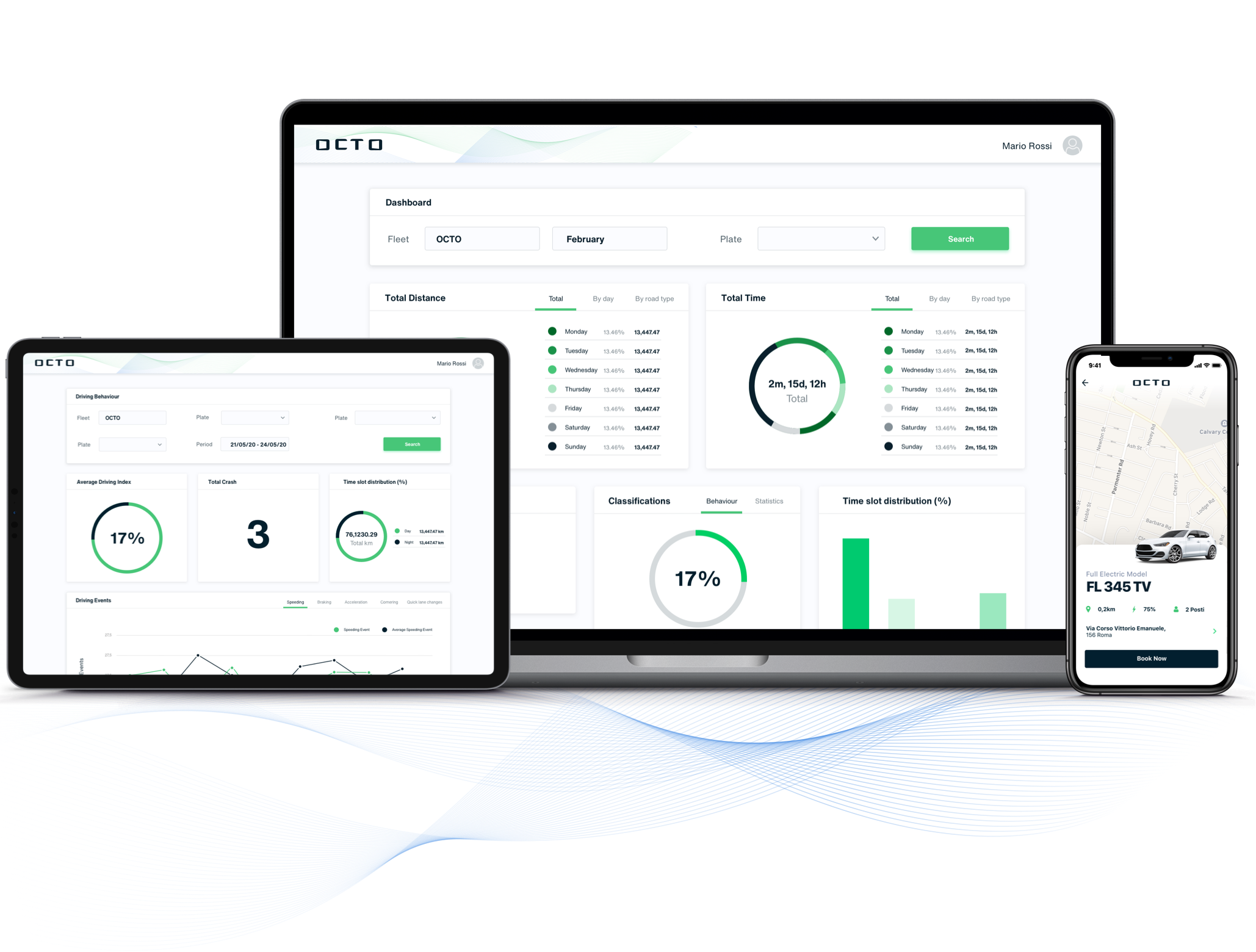 Grazie per averci contattato. Ti contatteremo al più presto!