The authors, Michele Bertoncello, Christopher Martens, Timo Möller, and Tobias Schneiderbauer wrote an article named "Unlocking the full life-cycle value from connected-car data" published by Mckinsey&Company on February 2021. In this study they explain how car data can help mobility players along the entire value chain. We have extrapolated a part of the article focuses on the value of connected car data.
With companies responding to these five imperatives (Exhibit 1) and advancing car-data monetization, we expect to see many new use cases that provide value throughout the vehicle life cycle.
Exhibit 1

These can be grouped into nine clusters that generate revenue and reduce costs in B2B and B2C settings. The clusters fill gaps and address pain points from R&D and product development through vehicle use and after-sales services. Today, for instance, customers do not have competitive in-car entertainment options that rival those of smartphones. Infrastructure operators also lack data about the condition and usage of their assets, and fleet operators are missing data that could help them better manage vehicle maintenance and repair. Leveraging car data and connectivity would enable use cases that address these issues (Exhibit 3).

Exhibit 3
These nine clusters, which contain 38 use cases, could deliver $250 billion to $400 billion in annual incremental value for players across the ecosystem in 2030 (Exhibit 4).
Exhibit 4
These figures include additional revenue generated from services and data sales, as well as cost savings enabled by car data. It is somewhat lower than the $450 billion to $750 billion in annual value that we estimated players would obtain through car-data monetization in our 2016 report on this topic.
We reduced the expected 2030 value because uptake of car-data monetization has been slower than anticipated, making it impossible to reach the upper range cited in our original forecast. Several factors explain the slowdown:
Players along the value chain, especially OEMs, are taking longer to build the required capabilities and hire the right talent; many are still struggling to attract developers.
The development of new, more capable E/E architectures has taken longer than expected.
Players along the value chain have been slow to form the ecosystems required for data monetization.
The industry's tightening economic situation, coming after its 2019 high in profits, has reduced investments in connectivity; the COVID-19 crisis will also have a negative impact on investments, although less pronounced, and will reduce the vehicle parc by reducing the 2020 sales volume.
The industry has made progress in addressing all of these issues, however, and connectivity is poised to deliver significant value. On a per-vehicle level, this equates to up to $310 in revenue and $180 in cost savings per year, on average, in 2030.
These figures vary significantly by vehicle, however, because of multiple factors. For instance, vehicle connectivity is a key differentiator. While basic connectivity allows vehicles to transmit data and show content on in-vehicle screens, advanced connectivity enables OTA upgrades. (The advanced levels require a wide range of in-vehicle sensors to generate data that enables additional use cases and features.) While many car-data use cases have been deployed in basic vehicles, the value potential of vehicles with advanced connectivity is two times greater.
In 2030, we expect annual revenue potential per vehicle to range from $130 to $210 for basic connectivity (C3X levels 1 to 2) to $400 to $610 for advanced connectivity (C3X levels 4 to 5). Annual cost savings would be in the range of $100 to $170 and $120 to $210 per vehicle, respectively.
With car data from basic cars conveying many benefits, even players with lower-connectivity-level vehicles can start to monetize data and enter the market. In fact, basic vehicles will continue to account for the largest share of the overall value pool because of their high share of the vehicle parc. By 2030, about 95 percent of new vehicles sold globally will be connected, up from around 50 percent today. Around 45 percent of these vehicles will have intermediate and advanced connectivity (Exhibit 5).
Exhibit 5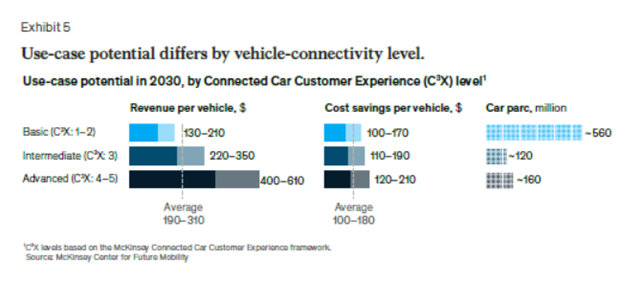 Every player can take advantage of use cases, but certain organizations may sometimes receive more benefits than others. For example, dealerships can capture data-driven sales efficiency improvements, insurers will benefit from usage-based insurance offers, and infrastructure players gain the most from use cases that leverage car-sensor data to monitor road conditions. In general, however, multiple players are required to generate full benefits. OEMs are present in nearly all use cases and will receive a certain share of value, given that today's gatekeeper function could change because of future regulations. Telecom players are also critical to most use cases, since they provide the data connection, and data aggregators and marketplaces will also commonly be involved.
Within the nine clusters, some use cases address larger underlying baselines than others, and their potential impact differs accordingly. Three use cases will deliver the greatest impact: OTA updates, R&D hardware optimization, and sales and service efficiency. Together, they represent 40 to45 percent of the total value pool.