/
/
/
Vehicle Sharing and Renting
Vehicle Sharing and Renting
OCTO solutions for the rental and shared mobility sector are developed to enable fleet managers to offer customers secure, innovative digital services. These services improve customer experience and ensure smooth, effective fleet management. These solution characteristics place OCTO among the suppliers of one of the main car-sharing operators in Italy.
Smart Sharing & Renting
One of the main challenges for rental and shared mobility operators is to effectively manage all daily activities and protect their assets, maintaining high customer engagement .

To meet the needs of sector operators, OCTO has created a flexible, scalable solution which, through a B2B portal and a specialized console, provides the right tools to enhance work efficiency, optimize fleet management, improve user services and support the expansion of business.
Among other features, the OCTO solution includes:
Registration of new users
Monitoring
Of trips, history, payments, frequency of use
Notifications
To manage communications
Assistance
Through recording, managing and tracking requests
Digital Renter Experience
A boost to the spread of shared mobility services can be given by the introduction, by sector operators, of operational processes and additional services that make the user experience unique and easy.
In this way, it is possible to encourage the constant use of these services as an alternative to a private car.

Thanks to its technological suite, OCTO offers end-to-end solutions useful to support operators in the sector, so that they can create a continuous and long lasting relationship with the end user.
The operating model is supported by a digitalization process that facilitates interactions and the entire journey of the end customer through an app that provides a series of information for travel management.
Some of the features included in the solution:
User registration
Which takes place on the operator's platform
Vehicle booking
Through the app that provides details on where the available vehicles are located and their characteristics (brand, model, fuel level)
Car lock / unlock the car
Allowed exclusively through the use of the app
Automatic payment
For any related services such as tolls and parking.
Advanced Reporting and Analytics​
Reading and understanding the data generated every day is increasingly required by fleets. The data needs to be analysed to support company decisions; to do so managers need flexible, integrated tools to help them improve service quality, optimise fleet management and increase customer loyalty.

Thanks to an open data management framework, OCTO solutions provide fleet managers with tools to scan the entire fleet's big data enabling access to easy-to-use, normalised data, regardless of the customer's IT maturity.
Starting from a basic solution, including standard reports, on to more advanced functionalities (to be configured based on customer needs) by loading different data sources, joining and combining them to obtain all possible exploration of data and support different queries and reports on preset time frequencies, for example:
– list of booking anomalies
– journey data reports (distribution of curves and details)
– lists of vehicles out of service
– report on refuelling
– report on registers
Smart Payment and Reporting​
Managing payments and billing is an important part of the rental cycle. On the one hand, it must enable renters to establish fixed tariff rules and apply fair tariffs. On the other, it must facilitate the end user's experience in the correct use and closure of the service.

Thanks to its platform, the framework OCTO makes available to its customers is flexible, fully embeddable in the entire process, where the billing and payment part is a fundamental, differentiating element.
Advanced Billing And Payment​
OCTO offers a complete, flexible invoicing cycle management set, including data collection to calculate the price of services used, generate the invoice and close the invoicing cycle.
The user has an easy, secure, fast way to pay the amount due after each trip, and obtain any refunds. Thanks to integration with selected Partner solutions, OCTO also makes multi -currency for invoicing available to operators, thus avoding the relative conversion costs.
Smart KeyLess
OCTO Smart KeyLess is a proprietary OCTO technology, tested by more than 15,000 transactions a day; enabling users and operators to block and release the doors of a vehicle without the key and to enable the engine block without interfering with its circuits and invalidating the guarantee.

This solution simplifies safe access to vehicles, thanks to a smartphone App and can involve several subjects (for example other users, assistance centres, repairers) who need safe access without contact with the vehicle.

The OBDII/EOBD port solution is compatible with all vehicle types, enabling easy installation and uninstallation.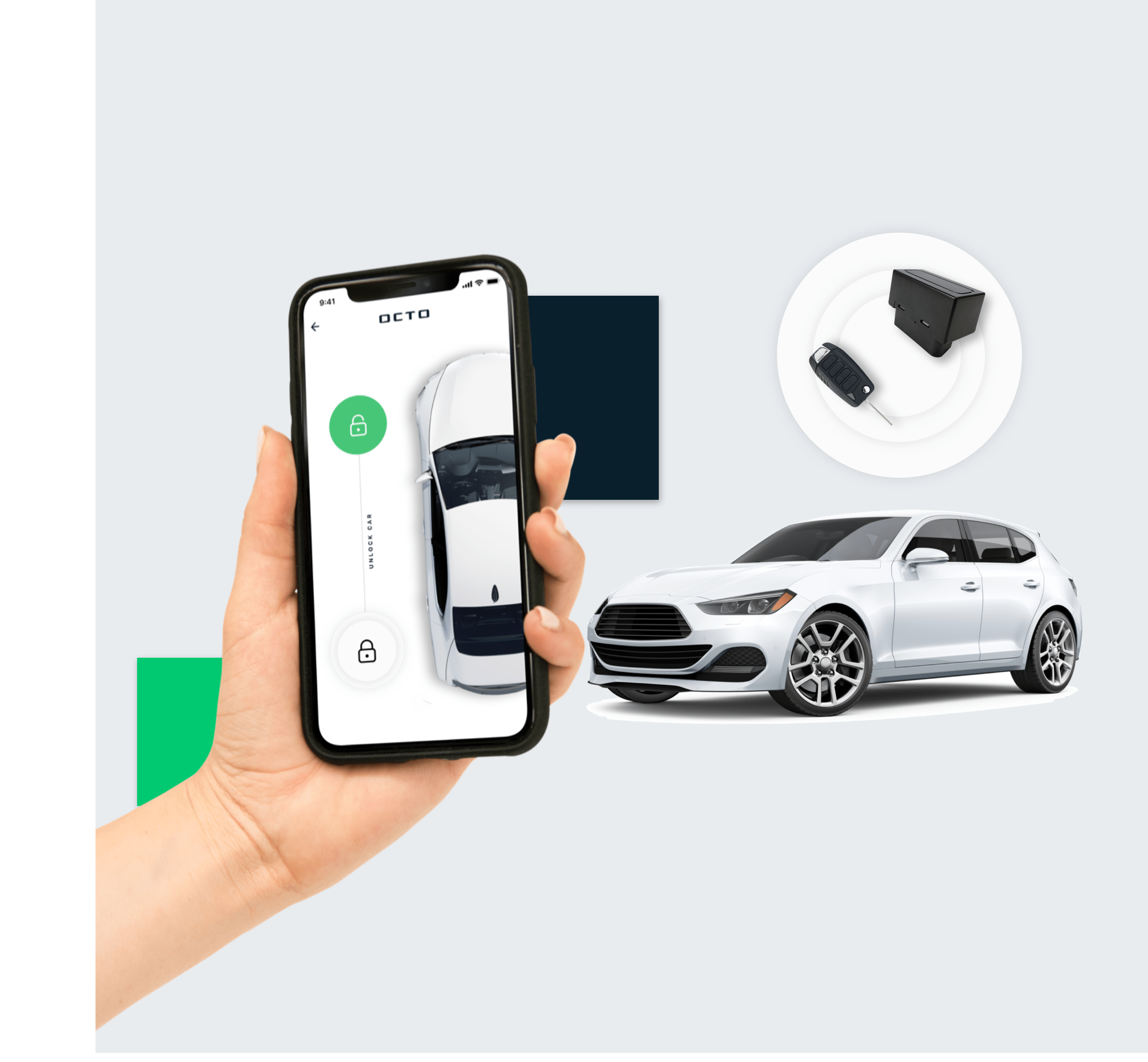 Fleet Telematics Solution
Sharing & Renting can be furtherly enhanced leveraging the full Fleet Telematics Solutions, with dedicated services for fleet efficiency, vehicle diagnostics, Crash & Claims, Safety & Security, Scoring and Sanitization.
Request a Demo
Tell us a bit about yourself, and we'll tell you a lot more about our solutions.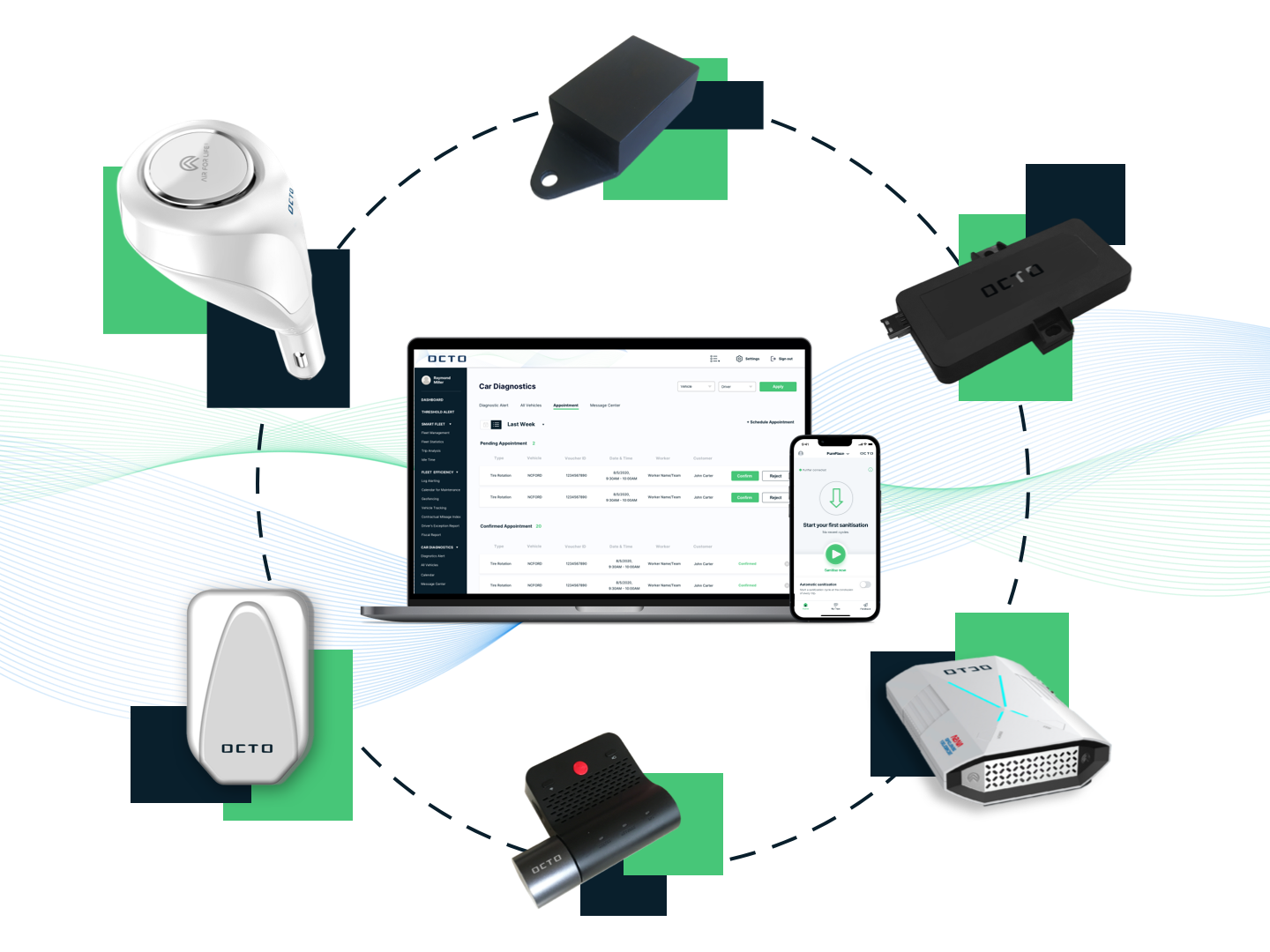 Thanks for contacting us. We'll be in touch soon!