OEM Solutions
OCTO uses the full potential of vehicle data to support manufacturers towards adjacent market businesses, such as insurance and short and long-term rentals, through solutions ready for the consumer market. The OCTO solution enables companies to improve fleet efficiency and make more intelligent decisions, thanks to several advanced analysis options of conduct, contextual and other electronic data supplied in real time
Car Remote Diagnostics
OCTO Diagnostic Solutions simplify the process of data usage coming from connected vehicles, enabling you to monitor, analyze and preserve vehicle health and operations.

The OCTO Cloud platform allows you to access all or part of vehicle data remotely and securely and, if required, integrate them with additional OEM data. Thanks to this function, the fleet manager can check the vehicle's maintenance, battery level, kilometers traveled and any error codes.
The huge amount of technical data generated by vehicles is only used in the vehicles, therefore not stored. Furthermore, the type of data generated differs depending on vehicle brand and / or model. Access to vehicle data offers many opportunities for diagnostics, because it helps improve vehicle maintenance and protect its value.
Then you also get the Scorecard: an electronic certificate which certifies, based on data collected, how the car is used during its entire life cycle. It can be an excellent tool to increase the car's value when resold.
Fleet Analytics
Data from connected vehicles represent a valuable resource, especially if properly analyzed, combined and integrated. OCTO solutions simplify the process of using OEM connected car data in innovative diagnostic services, useful for defining new business models.
The Fleet Analytics service includes:

– Monitoring of fuel consumption: that is monitors fuel consumption directly from car data through a machine learning model.

– Estimation of the residual value: multidimensional analysis based on an advanced crash algorithm and on the car usage data provides a reliable estimate of the vehicle's residual value.
Safety & Security
A dedicated solution ensuring driver and passenger safety based on prompt assitance at the time of need. As well as automatic activation in the case of a serious event, assistance can be called on-demand or for the recovery of a stolen vehicle.

Safety
The OCTO bCall and Proactive Crash assistance solutions assist drivers at the time of need. The technology can automatically or proactively be activated, and once activated is processed directly on the OCTO platform in which data is collected in real-time to determin the required assistance while also instantly generating an incident report.

Security
Security solutions protect fleet vehicles from theft, minimising any loss and disruption to the business.

Risk Scoring
The definition of a risk index based on behavioral and context driving parameters helps assess individual and fleet risk exposure. With this solution, fleet managers can implement suitable preventive measures to mitigate risk factors caused by poor driving habits, better protecting company assets.
Vehicle Sanitisation​
The solution allows vehicles to be automatically sanitized, after or during their use; it eliminates viruses, bacteria, fungi, odors and volatile organic compounds.
The OCTO PurePlace device is based on an ultra-modern electrochemical process that sanitize a vehicles after each use: AFLPCO® photocatalytic oxidation, a technology derived from NASA's aerospace research is effective while being completly harmless to vehicle occupants.
Smart Keyless
OCTO Smart KeyLess is OCTO's proprietary technology that allows users and operators to lock and unlock car doors without a key.
This solution provides simple access control to the vehicle via a smartphone app, improving safety and security. Multiple users (for example other drivers, service centers, repairers) can be permitted contactless access at relevant times.
Using the OBD-II/EOBD port, the solution is easy to install and compatible with a ride range of vehicles.
Request a Demo
Tell us a bit about yourself, and we'll tell you a lot more about our solutions.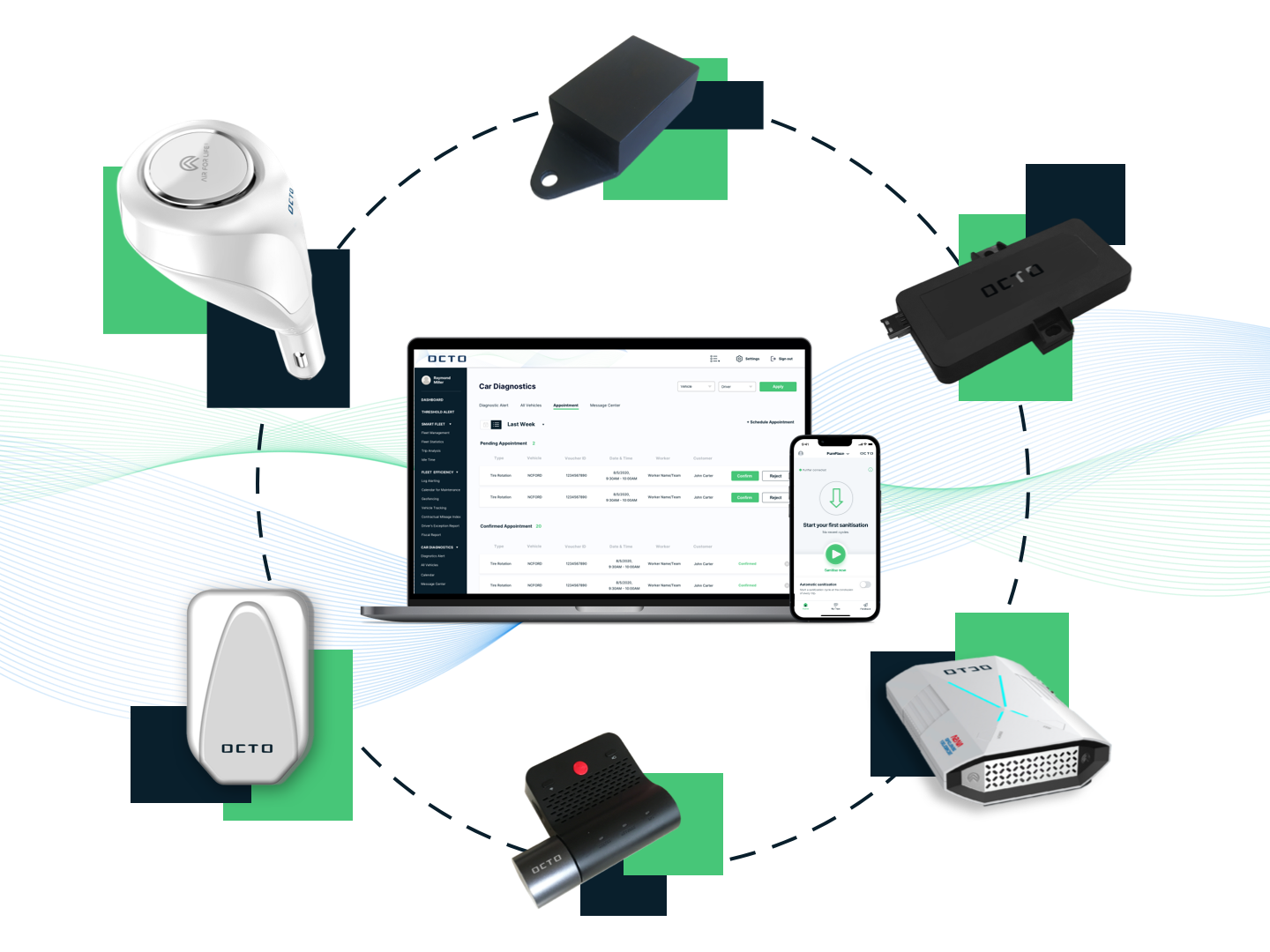 Thanks for contacting us. We'll be in touch soon!