/
/
/
Risk and Portfolio Management
Risk and Portfolio Management
When the insured and the insurer meet halfway, the benefits are for both. A tailored profiling is the right approach that can make a difference.
DriveAbility® Advanced Score
The flagship of OCTO risk management solutions and the result of constant evolution, DriveAbility® Advanced Score is a market-leading model born from the work of a pool of insurers who have shared their insurance claims field experience. The adoption of such solution is particularly advantageous for increasing company profitability, as it offers more opportunities for customer portfolio segmentation compared to traditional coefficients.
This score is assigned on the basis of a data collection with a high sampling rate (gps data every second).
It allows to predict the likelihood that a vehicle or a driver will be involved in an accident with a very high accuracy index (LIFT).
The company is provided with both an overall score and related details, in order to facilitate its analysis and integration with other external data. The algorithms on which it is based are flexible and adaptable to a large variety of devices.

Used by over 25 insurers on 5 continents, the adoption of The The DriveAbility® Advanced Score is particularly advantageous for increasing company profitability as it offers more opportunities for customer segmentation and accurate pricing compared to traditional factors.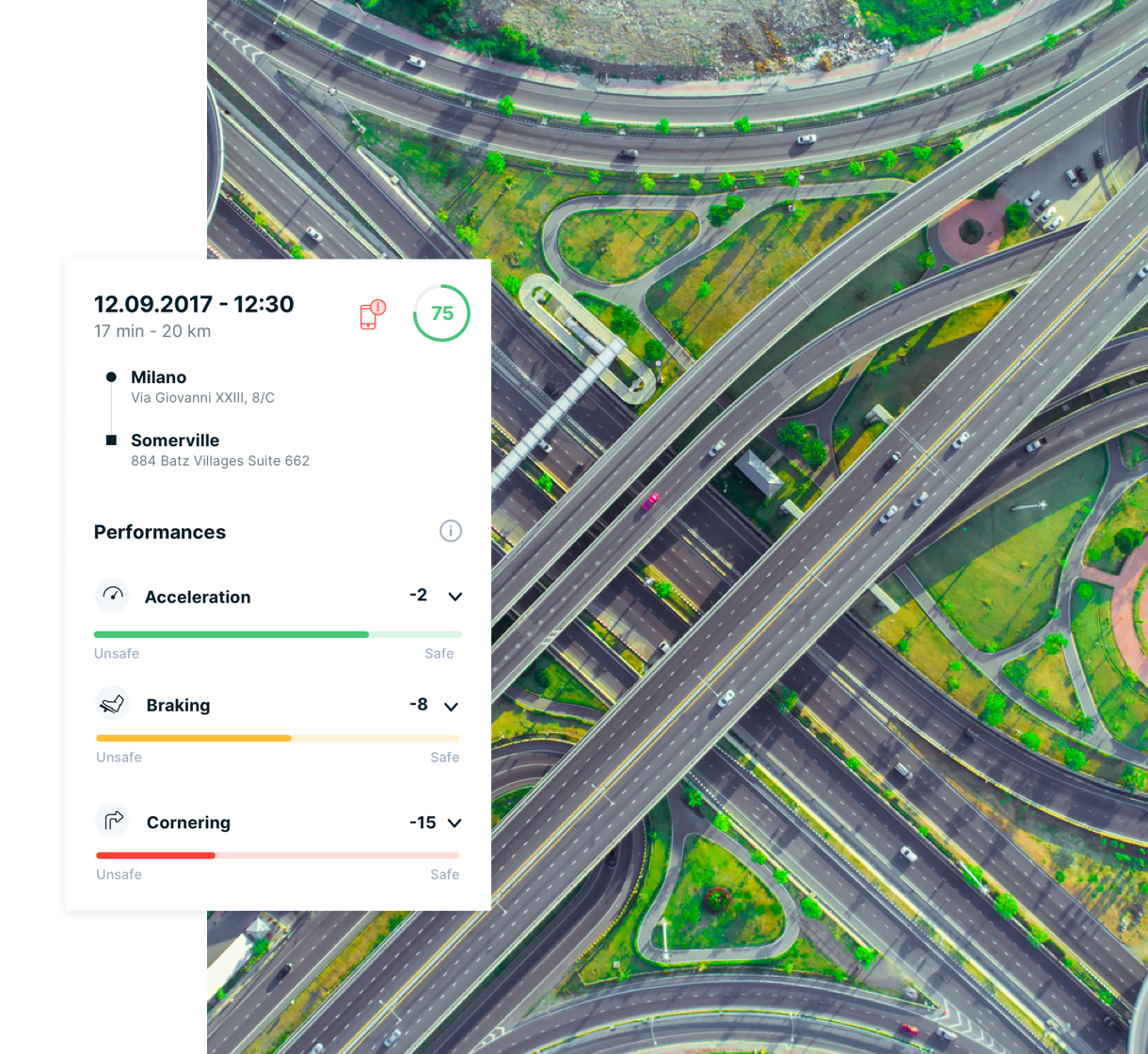 DriveAbility® No Location Score
One way in which insurers can cope with the rising costs of loss that are damaging companies' profitability is to obtain a score that improves the the insured's risk exposure prediction. For this, a continuous predictive score is necessary, even when the customer deactivates the smartphone GPS location services.
DriveAbility® No Location Score is the DriveAbility® integrated solution that offers a continuous predictive score and a very good accuracy index (LIFT) even in the absence of smartphone GPS location services, as it requires a moderate data sending rate.
DriveAbility Standard Score
Having accurate risk indicators to predict the propensity to incident of policyholders is an increasingly felt need of insurance companies because it would help them to manage the pricing processes and segmentation of the customer portfolio in a more adequate way as well as support UBI programs and monitor their evolution. DriveAbility Standard Score is a model that allows the construction of tailor-made programs able to meet Companies' needs.
The DriveAbility Standard Score is a score that is based on predictive modeling techniques that use incident information from the OCTO database in order to measure the risk exposure of each policyholder.
The score assigned, deriving from the analysis of information on the context of habits and driving behavior, is periodically updated through the collection of new telematic data. It is displayed in the form of
• Overall score
It is related to the average driving style with reference to the overall analysis period
• Travel Score It is related to a specific and single journey.
DriveAbility Standard Score can be used to support pricing and premium calculation processes defined by companies

DriveAbility Engagement Score
Basic scoring model that can be used by companies to involve policyholders through differentiation of their product, promote more suitable driving behaviors and select their portfolio in a marketing profile logic.
The application of this solution allows you to assign a score to the final customer through a judgment model based on an aggregated data linear combination.
The score awarded is updated as new driving behavior data is collected by on-board devices or smartphone apps. The aggregated data in statistics can be consulted via web by both the insurer and the final customer.
Request a Demo
Tell us a bit about yourself, and we'll tell you a lot more about our solutions.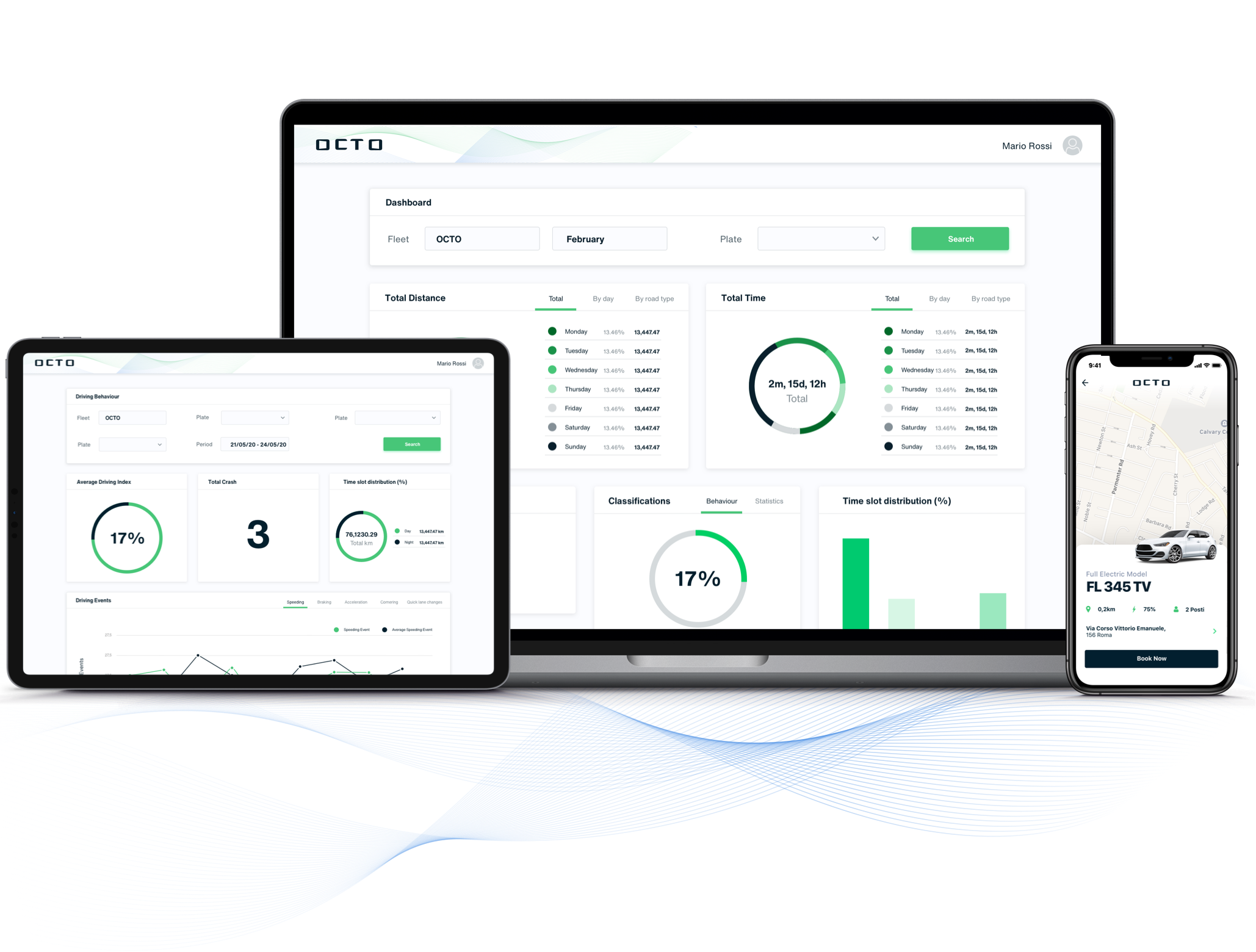 Thanks for contacting us. We'll be in touch soon!