/
/
/
Vehicle Diagnostics and Analytics
Vehicle Diagnostics and Analytics
The data deriving from connected vehicles increasingly represent an even more precious resource, if they are correctly analysed, combined and integrated: useful for the development of new products, indispensable for improving the efficiency of the vehicle and increasing the benefits for the driver and for their own driving experience.
Predictive Maintenance
The maintenance and breakdown data acquired from the vehicle can bus combined with the mobility data represent a fundamental element for understanding the relationships between vehicle use and the required maintenance.

These correlations are the basis of a predictive model aimed at ensuring the integrity of vehicles by anticipating needs and thus allowing greater planning of activities and less stress on the vehicles. OCTO's analytical capabilities allow not only the construction of predictive models capable of identifying in advance and accurately the components to be replaced but also the possibility of organizing interventions in a targeted manner only when necessary.
Predictive maintenance can lead to several advantages:

Guarantee
Through the construction of specific and profiled programs on the type of car and its use
Offer
Through customization of services
Revenue
By maximizing the return on investment in connected cars
Residual Value of the Vehicle
The data coming from a connected vehicle represent effective support to objectively and more precisely determine the residual value of the vehicle itself.

Using the OCTO model, data such as the distance travelled and the age of the vehicle are enriched with information on how to use it (driving style, wear of the parts involved) and make forecasts that affect its value. The result is a model able to show the actual state of health of a vehicle, as it is based on the real stress to which it was exposed during the period of use, and to highlight the exposure to future breakdowns or wear, taking into account certain parameters detected during its life cycle.

In this way, it is possible to sustain an increase or decrease in its value, thus helping car manufacturers and renters to reduce vehicle depreciation, and buyers to have the "real" final value at the time of purchase.
Request a Demo
Tell us a bit about yourself, and we'll tell you a lot more about our solutions.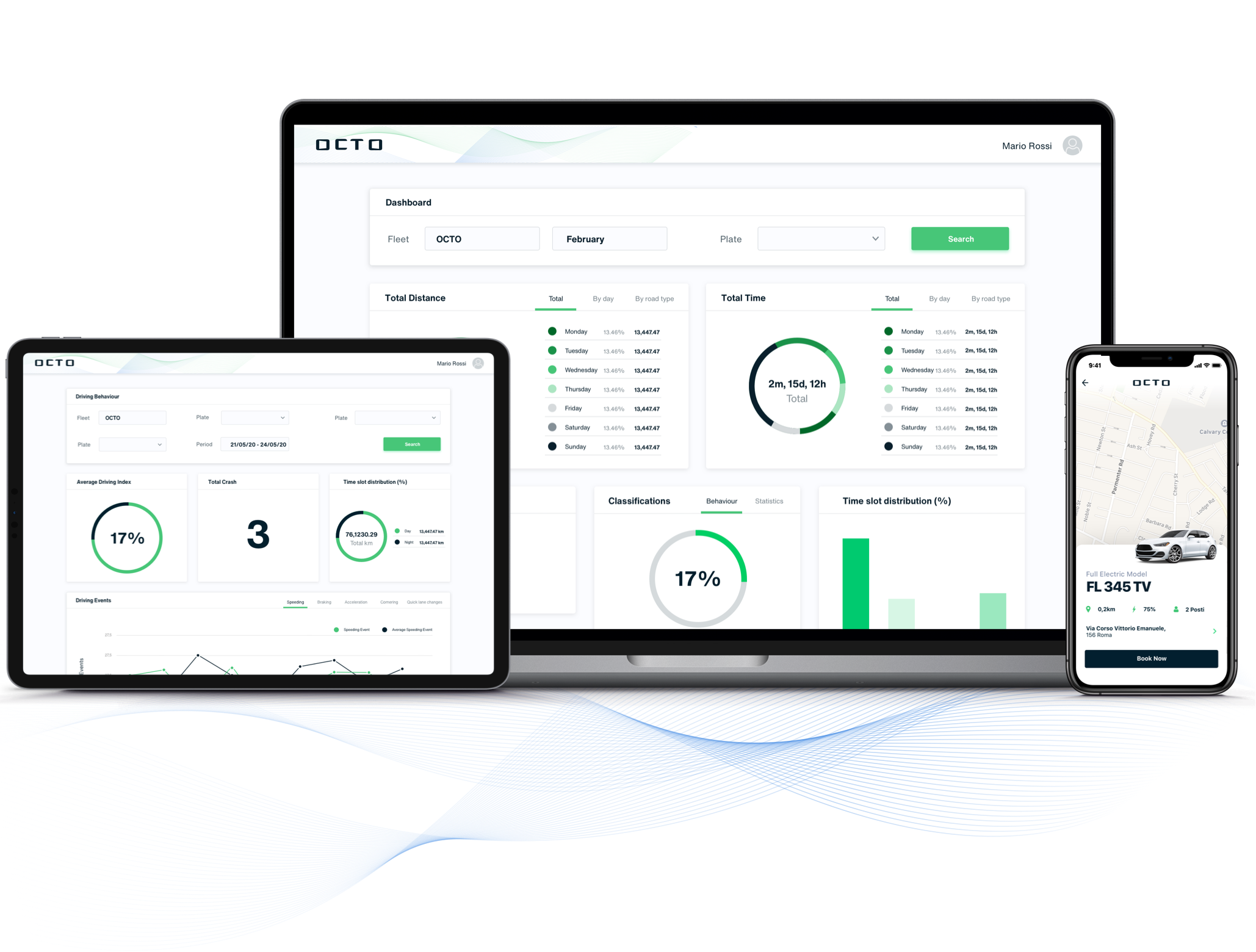 Thanks for contacting us. We'll be in touch soon!